In the post 401(K) Plan – What It Is, I told you some basics about it. In this post, I will ask and answer some questions about the 401 (K) Plan.
When do you start your 401K plan?
Start your 401 (k) as soon as you can join the workforce. The earlier you start saving, the better off you'll be. Below is a look at the 401K growth curve on Business Insider's website. You will see the value of growth at different ages.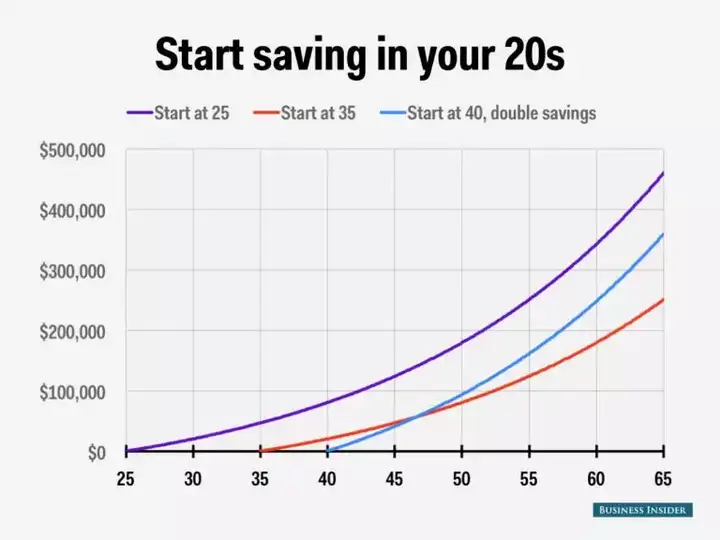 How long or how much should you put in the 401K?
The money put into your 401 (k) typically accounts for 10% of your total income. If you want a more comfortable retirement and your current income level is sufficient to put more into savings, you can save as much as you can based on your earning power. But you need to have enough money on hand. In this way, you will not borrow or withdraw your 401 (k) in case of an emergency. You can adjust the percentage of your investment each time you pay. Such as increasing the amount this time and decreasing the amount next time.
When can you take out the money you saved?
You can withdraw this money after you turn 59.5. But there will be a 10% penalty if you pick it up early. After age 70.5, you'll have to withdraw a portion of your 401(k) Plan each year, and you won't be able to continue with your 401(k) Plan, or you'll incur a penalty.
There are also special cases where this money can be withdrawn in advance. If you're 55 and plan to retire, and your company continues to contribute to your 401(k) Plan, you will withdraw a portion of that amount each month as part of your income. So you don't have to pay the 10% penalty. Or be in hardships, just like paying huge medical bills, being disabled, losing your job for 12 weeks or the death of an account holder. In the event of the death of the account holder, all the money in the account goes to one or more people designated by the account holder.
Can you buy a house with your 401(k)?
There are two very different ways to get money out of a 401(k) Plan, and it's easy to confuse people.
Distribution (withdraw)
It is literally taking money you've deposited in your 401(k) Plan. How does this differ from the 10% penalty for taking money from a 401(k) Plan need to pay mentioned earlier if you're under 59.5? Typically, a 401(k) Plan has an option, called an 'sink,' which allows people who need their cash flow to withdraw a portion of their savings to help them hardships.
According to the regulations, the hardship withdraw option allows first-time home buyers to withdraw no more than $10,000 from their 401 (k) Plan account and avoid a 10% tax fine. However, after the money is withdrawn, the corresponding tax must be paid in this tax year. So if you're looking to buy a home and your cash flow is low, you can apply for a down payment on your home purchase. But note that only $10,000 will cover your hardship. Anything greater than $10,000 will be subject to a 10% fine and taxes.
Take a loan
Another, more common approach is to take a loan from your own 401(k) plan. Typically, the loan is a loan of up to five years in the amount of $50,000 or half of your 401(k) Plan account deposit (the smaller of the two). There's no 10% tax penalty or additional tax on a 401K loan, so many people prefer a 401K for a down payment.
However, if you use the 401K loan, there is also a potential hazard. If you are fired or leave the company during the loan period, you need to repay all outstanding payments in the loan to the company within 60 days. If the money is not returned within 60 days, it will be treated as money you withdrew early from your 401 (k) and will incur a 10% tax penalty. To some extent, this may cause a cash flow crunch.
What about the money in 401 (k) plan after changing jobs?
There's no legal limit to how many 401(k) plans you can have at the same time. But employees can only contribute to your current employer's 401(k) Plan account.
There are generally four approaches:
Open a new 401(k) Plan at your new company and rollover the amount of your previous 401(k) Plan into your new account.
Transfer to your IRA (Individual Retirement Account).
You will leave your account with the original company if the original company agrees. And then open another account with the new company. But the original company will ask to close the account if it is less than $5,000.
Take all your money out, pay your fines, pay your taxes. This is clearly the most unwise choice.
Note: This post contains pictures from networks and copyrights belong to original authors.